Where to find a wiring diagram for my Squier Bullet....
Moderator: The GN support team
---
Ok, I have done some Google-fu and I have had no luck finding a wiring diagram to help me with my Squier bullet (2 wires came loose). Anyone know where I can find one? Im itching to play it again....

And if theres not a diagram, I could post a pic of the 2 loose wires...
newbie
Posts: 15
Joined: July 23rd, 2010, 12:57 pm
Location: North Carolina, USA
---
Guitarnoise Addict
Posts: 2259
Joined: October 14th, 2007, 5:03 pm
Location: Liverpool, England
---
Thanks, but I need a color diagram, there are yellow, blue, white, black, and grey wires in this thing.
Heres some pics of the 2 loose wires....
Ths one is attatched to the pick-up selector....dunno where it goes.
This black wire goes back where the bridge is...No clue where its supposed to go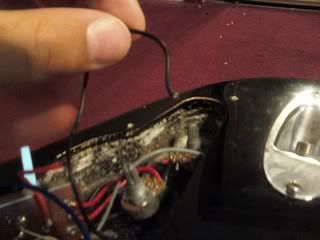 newbie
Posts: 15
Joined: July 23rd, 2010, 12:57 pm
Location: North Carolina, USA
---
Usually black is used for ground. The red one could be from the pickup selector to the one of the pots.

Has the guitar humbuckers or they are all single-coils? If they are single-coils the diagram is right for you. You only need to follow the lines and check which is loose.
Guitarnoise Addict
Posts: 4040
Joined: October 7th, 2006, 4:10 am
Location: Madrid, Spain
---
That switch isn't going to be a great asset anyhow - it's a little harder to work with and not as smooth as the Cortek.
I think that's a Cortek shown in the good diagram sent in by Scrybe and your version went and lowered the bar more?
I believe the red goes to the output lug from your volume control. Not the grounded one, not the centre, the last one.
The black ground wire goes to the claw that holds the springs from your trem block, in the back beneath the trem cover.
I recommend that you buy a Grigsby, Stew Mac, American Fender or Mexican switch and rewire to Standard specs onsite.
http://www.fender.com/support/wiring_di ... _lists.php
Like a bird on the wire,
like a drunk in a midnight choir
I have tried in my way to be free.
Guitarnoise Denizen
Posts: 1649
Joined: July 7th, 2009, 7:23 am
Location: Ontario, CANADA
---
Thank for the help...I think you were right. I saw 2 spots where ther was solder but no wire...I put the wires to them, plugged her up, and tapped the pickups. So I re-soldered that, went to my local shop, got some strings, and she works
At last I am re-united with my only thing to do all day long
.
Thanks for the help guys
newbie
Posts: 15
Joined: July 23rd, 2010, 12:57 pm
Location: North Carolina, USA
---