I guess I've finally arrived
Moderator: The GN support team
---
Wow, 30+ years of struggling with the guitar and finally someone will have heard of me.

My name is Boone and I have been jammin in and out of bands since the late 70's.
Over the past few years I have traded my jammin time for family life and farming which means that I am more of a guitar owner rather than player. Along with country living I have developed a love for Blue Grass and while my guitars are collecting dust, I am teaching myself the banjo, dulcimer, mandolin, etc. (I even named my daughter Amanda Lynn)

Smokindog has made it his mission in life to drop by once a month to dust off my guitars and compel me to devote an entire day to some of the coolest jam sessions I've experienced in a long time. Thanx Ken!

I'm looking forward to getting to know some of you old rockers and new rockers alike. Not to mention you Blue Grass enthusiest who can teach me a thing or two.

God bless and keep on Rockin'
"You know, everyone complains about the weather but nobody does anything about it." Floyd Lawson
newbie
Posts: 10
Joined: March 1st, 2006, 5:04 pm
Location: Greenville, SC
---
---
I'd give my arm and half my left leg to know The DOG in person. Welcome to GN.. Pick em up and dust them off yourself.
They still like ya. Love your daughters name too, btw. Very clever.
Geoo
"The hardest thing in life is to know which bridge to cross and which to burn" - David Russell (Scottish classical Guitarist. b.1942)
Guitarnoise Addict
Posts: 2830
Joined: February 14th, 2005, 6:43 am
Location: Moore, Oklahoma
---
Welcome to GN. You are a lucky guy indeed to have "the Dog" nearby.
Guitarnoise Addict
Posts: 4179
Joined: October 30th, 2004, 2:43 pm
Location: Excelsior Springs. Mo. USA
---
Welcome to GN and don let Ken get you in trouble.

Oh yeah, I am one of them old rockers.
Guitarnoise Addict
Posts: 2932
Joined: July 30th, 2004, 1:10 pm
Location: Near Albany, NY
---
Welcome, Boonezai! Always nice to meet friends of friends! I'm an old rocker, too, but find myself playing mostly blues lately. I got a mandolin for Christmas last year (but the guitar is still my instrument of choice),and have been getting into a little bluegrass myself (and gospel and country.....). Maybe we can help each other along! Nicetameetcha!
..· ´¨¨)) -:¦:-
¸.·´ .·´¨¨))
((¸¸.·´ .·´
-:¦:- ((¸¸.·´ -:¦:- Elecktrablue -:¦:-

"Don't wanna ride no shootin' star. Just wanna play on the rhythm guitar." Emmylou Harris, "Rhythm Guitar" from "The Ballad of Sally Rose"
Guitarnoise Addict
Posts: 4373
Joined: September 6th, 2004, 9:44 am
Location: North Central Texas
---
Check out Doyle Dukes if you wanna see some sick bluegrass. Hes considered one of the best acoustic players in the world, ive never heard anything like it. Hes a showcase for taylor guitars so I guess its to be expected haha.
Senior Member
Posts: 631
Joined: March 1st, 2006, 8:07 pm
Location: Athens, GA
---
Glad you could make it Boonezai!
Welcome to GN! Jump on in & join the fun.
See you around.
Dan
"The only way I know that guarantees no mistakes is not to play and that's simply not an option". David Hodge
Musically Insane
Posts: 5279
Joined: February 2nd, 2004, 5:27 pm
Location: Workin' them Angels
---
We'll all have to have a jam around your place.

Welcome.
Administrator
Posts: 9680
Joined: June 17th, 2002, 11:04 am
Location: Alexandria, VA USA
---
Nick wrote:We'll all have to have a jam around your place.

Welcome.
This is what it would look like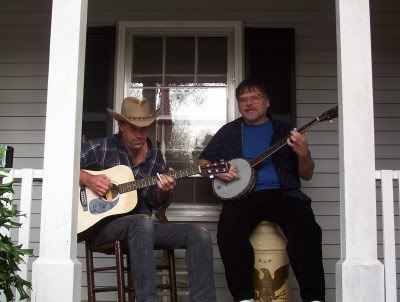 See ya next week bro-in-law..get them axes dusted
Musically Insane
Posts: 5363
Joined: September 27th, 2004, 7:55 pm
Location: Powdersville S.C.
---