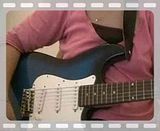 House of the Rising Sun - Isabelle feat. guest star Little 'ma ma maaaaahh' Marc.
I started 'playing' about 11 weeks ago (okay I did have lessons when I was a child - all I could remember was the name of the strings and the E phrygian scale, in fact I think that's all we did for the whole of the year, we never learned any chords or anything) and I've been getting one or two hours practice every day - except for two weeks when I was on holidays in sunny Corsica
Watching DylanBarrett's videos made me realise we're all on the same boat. It seems like we're all having the same problems, the same questions and the same frustrations.
So go on... share a vid with us on this topic, relax, enjoy, and have a laugh