Cracked, damaged acoustic guitar top... help!
Moderator: The GN support team
---
Hi, I have a Baby Taylor that is very broken and was wondering if anyone might be able to tell me about its salvageability. This guitar was sat on by a drunk person at a party. The front part of the body now has a big crack running from the bottom near the strap pin to up past the side of the sound hole, and it's disconnected from the sides in a few places so that you can pull it up a little and see inside of the guitar. It's pretty bad, but the only real damage is to the front plate of the body. I'd venture to say that the only thing I can do is pay a fortune for Taylor to replace it, but I wanted to see if anyone had any other ideas (and see if anyone else has ever had this terrible sort of thing happen to their guitar and how they dealt). I've never needed to get a guitar repaired before- I don't even know if repair places do this sort of thing, or if only a luthier can fix it. I'm not opposed to the idea of fixing it myself, but with string tension being what it is, and with the damage being so close to the bridge, it makes me nervous. I just don't know what to do, and it was my favorite guitar and I really miss playing it so any advice would be helpful.

-bEf
newbie
Posts: 4
Joined: February 9th, 2011, 2:28 pm
---
Sounds...pretty bad. I'm NOT a luthier, or even especially experienced working on acoustic guitars. But really sorry for your accident- sounds not good at all.

If you're good at woodworking, you might consider attempting a repair yourself, but a baby taylor is such a nice axe, if you can take it to a pro and get their opinion, I would.

For more input from here, some pictures would help- it sounds like you've got a BAD crack, which I'm not sure how you'd fix. COuld it be clamped and glued? Hard with the top, as it's such a thin piece- and how it would affect your resonance, I have no idea. BUt I'm sure there would be an effect.

Get some pics up, and the better carpenters here will have a go...

Best,
Ande
Senior Member
Posts: 661
Joined: November 21st, 2007, 3:12 pm
---
Pics would help. From what you're describing, the damage could run anywhere from a fairly simple fix to a major project...
First thing to do (if you haven't done it already) is take the strings off. With the aid of an inspection mirror (any small mirror will do) and a flashlight, look inside at the braces - the little strips of wood that reinforce the top and help 'focus' the vibrations - and see if the top is fractured (splintering away inside).
In the best case, you're just dealing with a crack along the grain. That's fixable, and maybe even inexpensively (inexpensive = $100-150). The top will be removed, the wood will be joined together, cleats (small support blocks) will be glued to the underside of the body spanning the crack, and the top will be glued back on. The good news is that the baby Taylors I've seen don't have binding work, which makes it an easier repair job. The sound will change a little bit, but if it's done right you'll barely notice.
In the worst case, the top wood will be splintered and the bracing broken. If that's the situation, you're probably looking at a new top and braces. Baby Taylors have a Sitka spruce top, which is fairly readily available. But duplicating (or salvaging) the bracing and the bridge will be more labor intensive. My guess is in the $300-600 range. I think the rosette on a baby Taylor may be a decal, but I'm not sure - I've never looked that closely. Off the top of my head, I have only one student right now who plays one, and her lesson isn't until Monday - I can take a look at hers and give an update... if so, and if it's important to you to have it, you'll probably want to take it to a Taylor authorized shop. There's a list of them
here
.
If it hasn't sustained massive internal damage and the top can be salvaged, any good luthier can handle the job - believe it or not, stuff like this happens all the time. But (and this is a BIG but!) many places that say they do repairs really don't handle this work - they send it out. So if you go to a local music store and they say they can fix it, ask if you can take a quick peek at their shop. You're looking for two things: a glue pot (a small tank for holding hide glue; it'll have an electric plug), and an assortment of chisels and/or violin knives (which look like wood handled exacto knives on steroids). If they don't have those, they won't be able to do the job. A lot of shops that "do repairs" will actually only do setups, wiring and other easy stuff... you want to deal with somebody that's made the investment in tools and training to do it right. Besides, if they're sending it to somebody else to fix, they're also adding a markup... which makes my price estimates low.
If it's any consolation, I've seen a half dozen guitars over the years that looked like they were only fit for kindling, and after a good workman got done with them, you honestly couldn't tell they'd ever been damaged.
Guitar teacher offering lessons in Plainfield IL
Musically Insane
Posts: 5612
Joined: August 9th, 2003, 8:48 pm
Location: SW of Chicago
---
I don't think it's worth the money to fix it, unless you're doing it yourself. It's only a $300. guitar......it would cost zillions
Senior Member
Posts: 826
Joined: February 19th, 2005, 8:14 pm
Location: Southern Maine, USA
---
Ok, I've got some pictures now: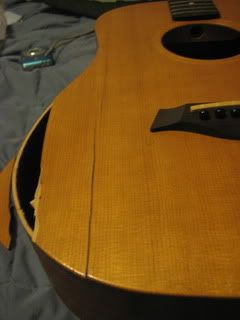 As you can see, I lost a nice little chunk there when I was trying to check inside, but I'm pretty sure the bracing isn't broken- just disconnected from the wood a little. Now, I'm a pretty handy person and I don't want to have to pay a whole bunch of money to get it fixed if I can do it myself. I'm wondering if gluing the cracks together is out of the question, because swapping it out with a whole new piece of wood seems like a big ordeal- but you tell me. I really appreciate the advice I've gotten so far.
-bEf
newbie
Posts: 4
Joined: February 9th, 2011, 2:28 pm
---
Is that the missing peice there on the left??? If you have all the parts, I say its worth a shot to fix it. Looks like a glue/clamp job. It might not be perfect..... but better then sending it to the trashman.
Paul B
Senior Member
Posts: 826
Joined: May 19th, 2008, 10:42 am
Location: albany NY area
---
Aw, thank goodness- that doesn't look nearly as bad as I was picturing! Whew-

If the bracing is intact, it's really not even that bad. Even if it IS damaged... a good hand with guitars should be able to fix your baby...
Best,
Ande
Senior Member
Posts: 661
Joined: November 21st, 2007, 3:12 pm
---
It's not a total disaster. If you work slowly and carefully, you can get it done, and not spend a fortune.
First thing you have to do is remove the top. Here's a
tutorial
Next you'll have to glue the top pieces back together. You can use titebond for this - and you may want to add two or three reinforcing cleats. Titebond is ok for the cleats too, IMO.
This step might get a little tricky... because from your pictures, it looks like the kerfing (the gluing support on the inner edge) came off with the missing piece. After you get the top off, it'll be clear where the missing kerfing goes, and you might give serious consideration to detaching the kerfing from the top piece and gluing it to the side. Getting the kerfing off the top will also make it easier to clamp the top - you want to hold the pieces in laterally, but at the same time keep the top flat. I'd probably jerry rig something along the lines of a tight wrap of a thin strip of cloth around the top to hold it in place, and then clamp it with flat wood strips on both sides of the top.
Your best bet for glue to reattach the kerfing and top is a hide glue. Those are animal glues that soften when heated. You can buy it in fairly small quantities. You'll need to heat it - commercial glue pots run $100 and up, but I found a hack online to
make one yourself
After the glue dries, you'll need to reassemble. Here's a
tutorial
on regluing the top plate. The spool clamps shown will help a lot if you can borrow them from somewhere... otherwise you might have to go with a band clamp - which is relatively inexpensive. I use one like
this
.
Hope that helps. And good luck!
Guitar teacher offering lessons in Plainfield IL
Musically Insane
Posts: 5612
Joined: August 9th, 2003, 8:48 pm
Location: SW of Chicago
---
I you have the other piece & it doesn't matter a ton the looks, then go for it.
With the info links Noteboat left you & a little ingenuity...you can fix it, plus it would give you more experience for the next time.
I think that experience is extremely valuable.
Gook luck
Senior Member
Posts: 826
Joined: February 19th, 2005, 8:14 pm
Location: Southern Maine, USA
---
OK.. just a thought here....

NoteBooks post is awesome and lots of great info there.. But im thinking I would probably try a less invasive approch. Hard to tell.... but looks like most of the top is still solid, and well attached to the guitar.[if not... refer to that other post..] Now knowing its not a hugly expensive guitar, Im thinking I might want to see if it can be worked with together. Maybe you can get away with glueing the top peices together as it is, then reattaching to the body. Maybe it wouldnt work... and if this was some real sweet, very pricy guitar I probably would not try it, but if it was me, thats what I would be thinking of at this time.

OK.. I will end this with the fact that I havent built/repaired the wood body on a accustic yet.. but have done other work with wood before, so maybe Im TOTALY out of line.
Paul B
Senior Member
Posts: 826
Joined: May 19th, 2008, 10:42 am
Location: albany NY area
---
s1120 isn't totally out of line. I've seen cracks repaired in place. But it would be hard to place the kerfing properly to make it structurally sound, and that joint with the sides plays a part (a small part, but still a part) of the guitar's tone. If it was my guitar I'd remove it and reglue it after the plate repair.
Guitar teacher offering lessons in Plainfield IL
Musically Insane
Posts: 5612
Joined: August 9th, 2003, 8:48 pm
Location: SW of Chicago
---
Alright, what I think I'm going to do is take the top off, fix it up, and put it back on. I took a closer look and noticed that
a) There's no binding that I need to take off. The top looks like it is simply glued to the sides, which would probably make taking it off a little easier.
b) There's only a few inches worth of kerfing up near the "shoulders" of the guitar. It didn't fall off with the little piece, it just wasn't there to begin with.
I think I'll use the hot putty knife technique (found in NoteBoat's link) to separate the top from the sides. As for gluing the top pieces together- some of the cracks are teeeeny tiny and I'm wondering if anyone knows of a good way to get the glue into them. Also, I think I'll take NoteBoat's advice and "jerry rig something along the lines of a tight wrap of a thin strip of cloth around the top to hold it in place, and then clamp it with flat wood strips on both sides of the top." That sounds like a good way to get the top reunited with itself, but I have to get the brace secured to the spots that it came off of. Maybe apply titebond to the cracks and the brace, then clamp it all together in one shot? I want to add the reinforcing cleats too, but I'm not sure how to do that...
Does anyone know a good place to buy hide glue, and if a double boiler on the stovetop would work to heat that up? I can't wait to get this started. Finally there's hope for my Baby Taylor, thanks to all of your advice!
-bEf
newbie
Posts: 4
Joined: February 9th, 2011, 2:28 pm
---