Venue:
The Sherman Theater Stroudsberg, PA
The Sherman Theater is a small venue located on Main St. Stroudsburg. It seats approximately 1000 people. I had the privilege of sitting in the VIP balcony seats located to the left of the stage. I think this has become my new favorite place for seeing bands. The building has great acoustics and the is only 1 hour away from my home. What more could you ask for?
I loved the seats. We were so close that we could read the set list that was taped to the floor. The added advantage of being above the crowd gave us a great opportunity to share the "aroma".
If you are not familiar with Umphries Mcgee, do yourself a favor and get some of their music. They are an amazing band. Although I will say their studio work really does not do the justice at all.
Brendan Bayliss - (Guitar, Lead vocals) is a phenomenal musician. In my opinion Jake Cinninger - (Lead Guitar, vocals) is one of the most under rated guitarist on earth. Individually each guitarist is a virtuoso in their own right. But collectively, they produce some of the best music I've heard. You will not hear a tighter band. Period.
The band is made complete by Joel Cummins - (Keyboard, piano, vocals), Andy Farag - (Percussion ), Kris Myers - (Drums, vocals) and Ryan Stasik - (Bass, no vocals).
Umphries music is a mix of fusion, jazz and jam. Sprinkled with straight ahead, in your face rock. Watching Jake Cinninger direct the band in the middle of an extend jam, changing tempo and meter, reminded my of how Zappa used to do the same. The band responded with ease and made it sound well rehearsed.
What a great show. Can not wait to see the again.
Here's a link to all of the pics I took....
Umphries McGee Concert Shots
A shot of Jake Cinninger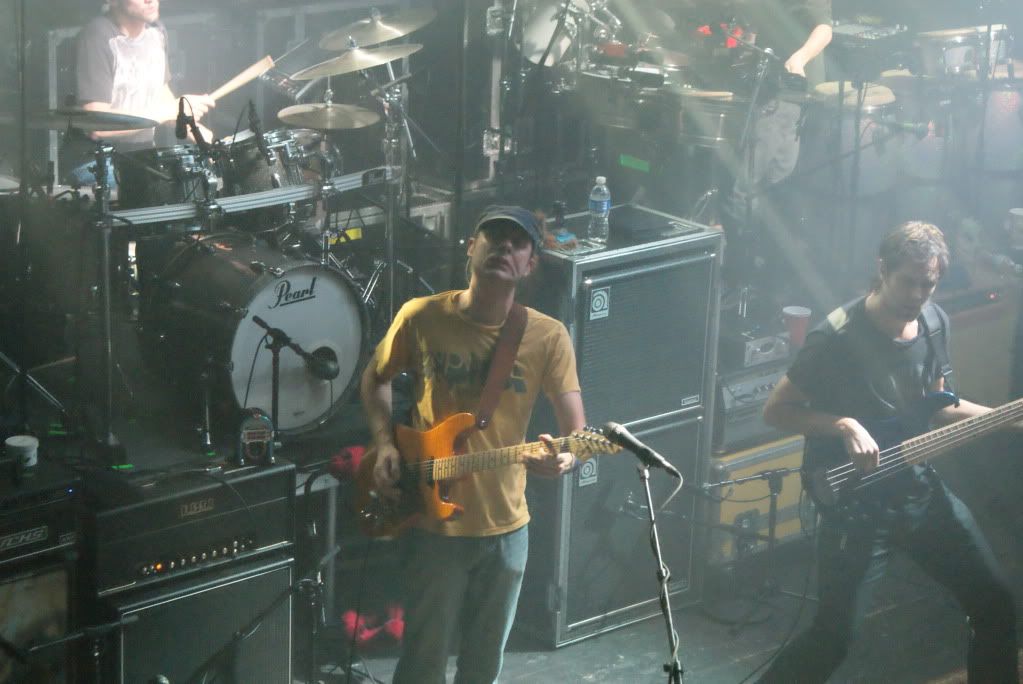 Set List
Set One
Walletsworth, Slacker > Phil's Farm, Morning Song, Got Your Milk (Right Here)* > Utopian Fir > Slacker
Set Two
Bridgeless > Spires$ > Utopian Fir**, Water > Bridgeless, Bloody Well Right, Robot World$$ > Thin Air
Encore
Rocker (part II)